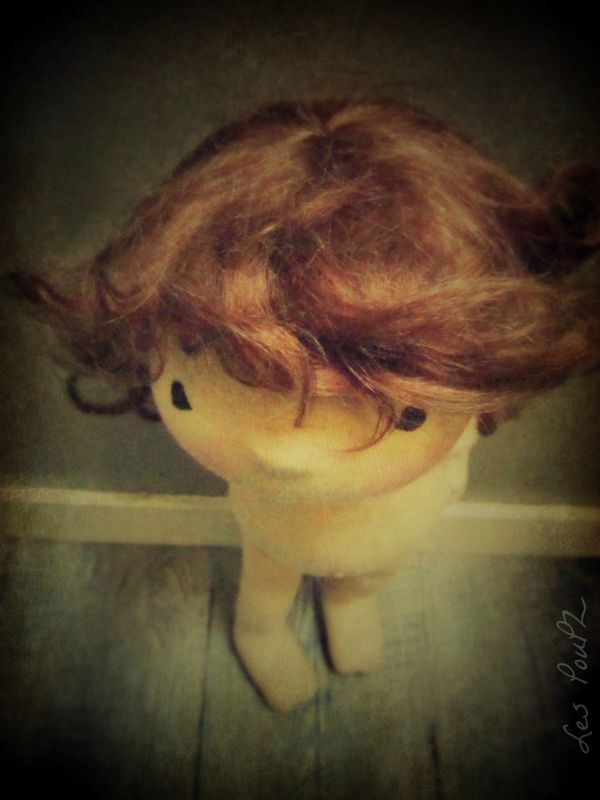 The more I make dolls, the less I can contain them; each of them decides what she wants to be... I can master her shape and appearance, but have no control over her character and mood.
The top picture is Luce, my latest custom doll. This little doll seems very moody in her pouting posture, but in fact she revealed very open-minded and disciplined!
The second picture is also a custom; she is my second Teeny Girl; this one has mohair hair and looks so funny with her curly braids!
Each doll is unique; I can master their shapes, but not their character!
When I start a new doll, I decide on the shapes and colours, but I get to know her soul, her personality along the making process.
Embroidering her eyes, sewing her hair, placing her mouth, and tada... everytime the magic works! I make a new acquaintance and I start to speak to her! I know it may sound a bit crazy - I often hear my daughters giggling at me when I do this- but I need to speak to them; and I can read their answers to my questions in their eyes, or the corner of their mouth.
They do speak! Ask your children, and sure they will agree with me!
************
I'm having a short holiday next week
- time to think of new ideas -
and I'll be back very soon
with lots and lots of things to tell you, and my dolls ;)
hugs
Sev