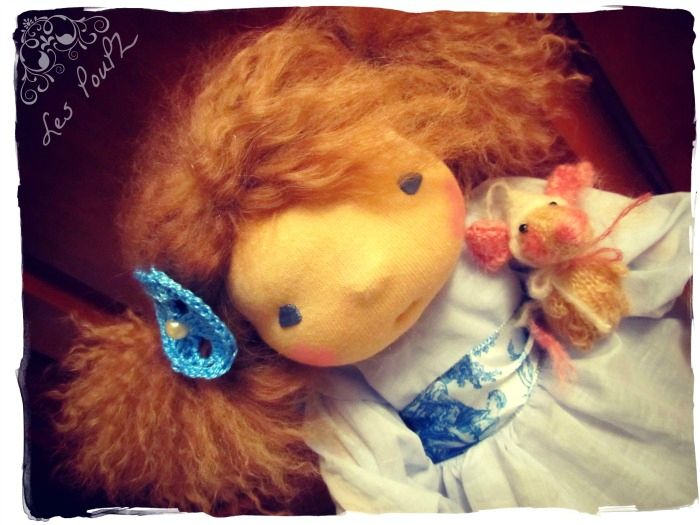 Hi, dear followers!
Let's meet Nina and the tiny forever mouse friend named Miette. I'm sure you all remember who Miette is! I recidived and made another one at a customer's request! It's always so fun to see this tiny weeny thing come to life, stitch after stitch!
Well, let's talk about Nina! At first, I wanted her discreet, sweet and shy; but as I was making her a hooded cape, a sort of animal instinct came out from her!!! I wanted fur for the cape - Nina was made along Maëlle's model, she she had a whit fur cape. I finally decided on this hairy fur fabric which is really, really soft.... yet rather uncommon! No problem for Nina! She adoOOOOres her fur cape, and Miette as well!! She loves snuggling on Nina's arm, and feel the fur teasing her little mouse nose!
I chose blue as a main colour for this project; blue matches Nina's eyes, and hair. Her hair is fairer than Maëlle's, who had really deep red hair. Nina's more of blond hair.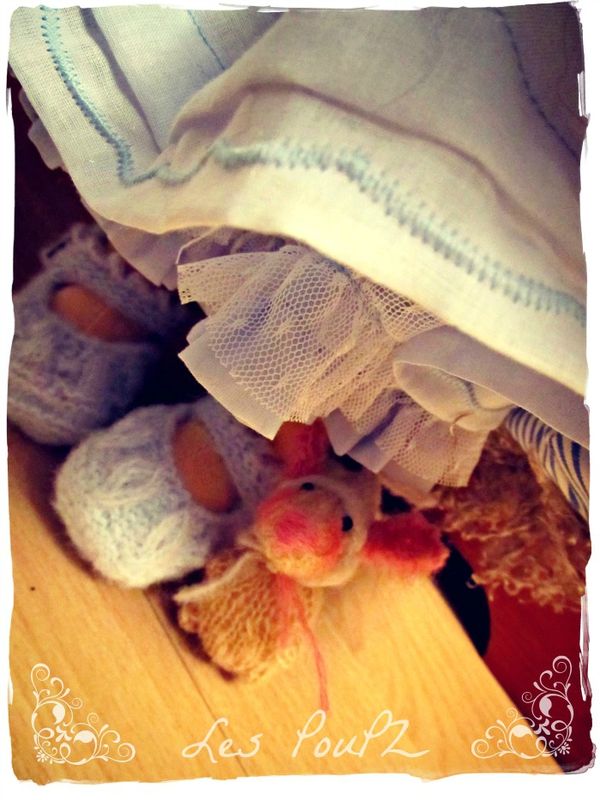 Under her pinafore dress, she wears a long puffed sleeved raglan dress. You can see the bottom of the under-dress on this photo. I love the ruffles, the embroidery, and the different levels of the outfit! I also adore this light blue colour, which is so soft. The knitted mary janes are made with a mossy yarn, which I really like too, because so easy to knit, and kid of elastic, so that the shoes really fit my dolls' little feet. I had often used this shoe pattern before; I particularly like its shape, and its girly chic design!
To view Nina's photo gallery, please click the grey link from the horizontal menu at the top of the page.
Warmly,
Sév