I already told you I had tried my hand on a new style of dolls. Here is the first set I made during the holidays: Little Red Riding Hood and Not-So-Bad Wolf, a set of Hand puppets inspired by Charles Perrault's worldwide famous tale.

I finished the wolf puppet today, and I love them so much. I really fell in love with Jill Hamor's patterns which are inspired by vintage patterns. They are not waldorf dolls, but still... I feel there is so much poetry in these dolls. And I so fell in love with their cute square faces.
Little Red's face is made of cotton; it is stuffed with anti-allergic synthetinc stuffing, but could as well be stuffed with carded wool like waldorf dolls. The doll puppet was made according to Jill Hamor's pattern.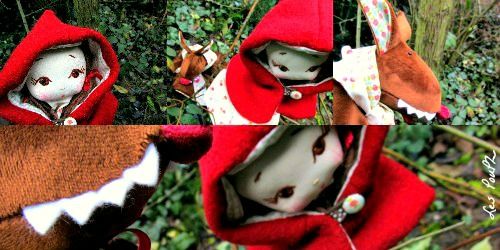 As she was going through the wood, she met with a wolf, who had a very great mind to eat her up, but he dared not, because of some woodcutters working nearby in the forest.
He asked her where she was going. The poor child, who did not know that it was dangerous to stay and talk to a wolf, said to him, "I am going to see my grandmother and carry her a cake and a little pot of butter from my mother."
I hope you enjoy them as much as I do. And I already know I will regularly propose some more of these dolls.
This set will be available tomorrow in my etsy shop.
Truly,
Sév